Pete's Pick
December 2017
New York
Edward Rutherfurd
Published by Doubleday, 2009
---
Nancy's Pick
November 2017
The Tea Girl of Hummingbird Lane
Lisa See
Scribner, March 21, 2017
Lisa See's book, The Tea Girl of Hummingbird Lane, is fiction, but with detailed historic facts that tell the story of family, identity, and motherhood. The setting is centered around a little known world high in the Yunnan mountains in China. The author tells of a young girl,  Li-yan, and her family who are members of the Akha ethnic minority. The Akha are tea growers who live their lives practicing the tea-growing rituals of their ancestors.  Li-yan's family must learn to adapt to the outside world when tea merchants arrive at their remote village looking for a rare tea called Pu'er.
Li-yan experiences many Akha Law traditions that shock her and affect her entire life. These events are the Akha Law actions toward twin births, her marriage to San-pa who is not of the Akha membership, and the punishment by Akha Law to her child.
Li-yan's  mother A-ma is a midwife who has her own land and whose tea trees are in A-ma's word "sacred." It is important for Lin-yan to keep the land and ancient trees a secret from everyone including her father, other family members, and the villagers.
Almost all the characters in the novel have secrets that unfold throughout the story. Li-yan's secret about her child affects her life and all relationships.
The story of Lin-yan tells the importance of Pu'er tea to the Akha culture and their economy. The surprise in the book is the importance of the secret land, the link to the history of tea and a reunion for  Li-yan!
Lisa See is the author of many bestselling novels and The Tea Girl of Hummingbird Lane is one to add to a reading list.
---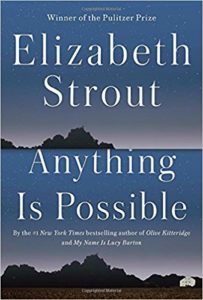 Barbara's Pick
October 2017
Anything Is Possible
Elizabeth Strout
Penguin Random House
Native New Englander Elizabeth Strout seems to love a short story. Not really surprising, since she won a Pulitzer Prize for her last collection, Olive Kittredge. She also seems to grow very attached to her characters, sometimes carrying them or the town they live in into subsequent fiction. Such is the case for this new short-story collection, Anything Is Possible.
Anything Is Possible takes the reader back to Amgash, Illinois—which Strout's last book, My Name Is Lucy Barton, introduced the reader to—and tells the stories of some of the other characters in the surrounding area. You don't have to have read Lucy Barton to appreciate the craft in these nine stories; they are spare but elegantly written, not happy but somehow comforting.
There's no real theme to the collection; some of the characters' issues include depression, voyeurism, homosexuality, and surviving war. Again, not lighthearted subjects, but somehow Strout manages to sympathetically convey the characters' worth.
If you enjoy reading stories that make you think, this collection is worth your attention.
---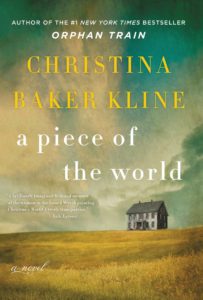 Karen's Pick
September 2017
A Piece of the World: a Novel
Christina Baker Kline
William Morrow; First Edition edition (February 21, 2017)
Christine Baker Kline has written a beautiful and poetic novel based on Andrew Wyeth's painting "Christina's World." The author uses her remarkable skill to weave fact and fiction to portray Christina's complicated relationship to her flawed family members and her special relationship with one of America's greatest modern artist. For those who do not know the painting (it is required viewing if you choose to read this book) we see a portrait of woman who appears from the back, to be bit frail and placed in the center of a field of tall grasses looking up into a distant and faded farmhouse. The woman in the painting is "Anna" Christina Olson of South Cushing, Maine.
Christina is introduced to us as a happy and adventurous child living in a small town on her remote family farm. We soon realize that her life will drastically change by the age of ten when she is diagnosed with a degenerative muscle disease that will cost her the use of her legs by the age of 30.  The struggles she most overcome in order to function in her increasingly small world requires more of her than one could imagine. During the course of Christina's declining physical state she cares for her ill mother and irascible father, emotionally supports her three brothers, and unconditionally respects her grandmother, all of whom resided in the Olsen Homestead.
Due to her disabilities Christina must learn to cope with losses other than the use of her legs- the loss of a lover, the loss of her dignity, and most importantly, the loss of hope and expectation.
It is at this most sorrowful point in Christina's life that Kline introduces the reader to the young artist, Andrew Wyeth.  During her next 20 summers an aging and pitiful Christina eagerly anticipates the return of her friend Wyeth to Cushing. He loves the Olsen farm and its neighboring view of the sea. Wyeth uses a vacant bedroom in her home as his painting studio. Christina soon becomes his muse and his model.  The special bond that Christina Olsen and Andrew Wyeth share during their time together is subtle, nurturing and productive.  It is this relationship that allows Wyeth to paint the much-admired "Christina's World."
In this reader's opinion, Christine Baker Kline's writing in A Piece of the World, should be considered as the paradigm for a vivid and poignant novel.  I highly recommend this work of popular "fiction."
---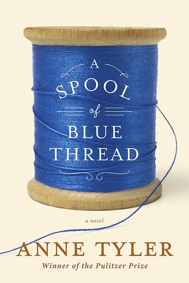 Chris's Pick
August 2017
A Spool of Blue Thread
Anne Tyler
Alfred A. Knopf, Publisher, 2015
A Spool of Blue Thread is Anne Tyler's twentieth novel.  Like her other novels, most of which I have read, to begin it is like sinking down into a favorite old chair, feet up, fireplace crackling (should it be winter), and fully relaxing into the lives of her characters.    Tyler's gift is the effortless, insightful way she chronicles family life. 
In an interview by The Guardian:  I start every book thinking, 'This one will be different' and it's not," Tyler says. "I have my limitations. I am fascinated by how families work, endurance, how do we get through life?...We're endlessly striving and keeping going. How many times we hurt each other in families or drift apart or do harm – and then we come back together and try over again. It's very heartening and touching.
It is a perfect summary of what A Spool of Blue Thread is about.  Like its predecessors, the book takes place in Baltimore (where Anne Tyler lives) and focuses on a family.  We meet the Whitshanks:  Junior and Linnie, their son Red and his wife, Abby, and their children…and their children. It also centers on a much beloved house, which becomes a character in its own right, paying witness to four generations until "the filmy-skinned ghosts frolicked and danced on the porch with nobody left to watch." 
At its core, the story centers around Abby, who seems to be "disappearing".  Although never fully stated, we surmise that she is having a series of mini-strokes causing her to become forgetful and lose sections of time and place.  Her husband and children, all so distinctively different, rally around what becomes a family tragedy.
Then, to our surprise, once that story has nearly concluded, we are sent back in time to meet and understand the young Junior and Linnie Mae, patriarch and matriarch of the family—who are full of surprises themselves.
Tyler's insights into human frailties and struggles, strengths, wants, needs, and aspirations is what makes her writing so special.  A sentence will stop you mid-read and you shake your head at its truth.  The story slowly surrenders its secrets as you realize that Anne Tyler's characters could be anyone we know and love: family members who may say the wrong thing or take the wrong path and whose lives are often messy.  Yet at their core, good people who are just trying to forge their way through.
Interestingly, Tyler does not wrap up all the little loose ends into a tidy ending.  But we know these characters so well by this point that the conclusions we draw on our own are probably correct.  Or… perhaps not.
---
Karen's Pick
July 2017
Lincoln in the Bardo
George Saunders
Random House - February 14th, 2017
Time: 1862, one year after the Civil War has begun
Place: Oak Hill Cemetery, Washington D.C.
Story: Ghosts trapped between this world and the next.
Immediately after reading my favorite book (so far) of 2017, George Saunders' Lincoln in the Bardo, I asked the question- had I read a work of popular Genre Fiction or a work of Literary Ficton? Initially, I had a hard time answering since we know that many popular Genre Fiction books have been written by great writers like Stephen King, Kurt Vonnegut, J.K Rowlings and many great Literary Fiction include writers like Jane Austen, George Orwell, Harper Lee, Donna Tartt.
Steven Petite in The Blog states:  In essence, the best Genre Fiction contains great writing, with the goal of telling a captivating story to escape from reality.
Literary Fiction is comprised of the heart and soul of a writer's being, and is experienced as an emotional journey through the symphony of words, leading to a stronger grasp of the universe and of ourselves.
Okay, so now I've got my answer. I've just read a great work of Genre Fiction since George Saunders brilliantly takes the reader to a new place, the Bardo.  In The Tibetan Book of the Dead, the Bardo is a period of transition between states of consciousness: asleep and awake, dead and reborn.
The story takes place in play form, in one night, with 166 characters telling their tales of regret, failings, and pain, which do not allow them to move onto the next "world".  Their physical state has also changed in the Bardo-extra or distorted body parts, remind the reader of the characters' misgivings at death as well as making it a bit easier to remember their dalliances in life.
But wait…perhaps I think I've read a book of Literary Fiction by this masterful writer, since Lincoln in the Bardo takes us on the emotional journey of Abraham Lincoln after the death of his young son Willie. We feel his pain as Lincoln mourns, "My poor boy, he was too good for this earth. 'God has called him home.'"
On the day of his death, Willie's ghost enters the Bardo because he wants to spend more time with his father. This act is contrary to the usually quick transition time from death to after-life by most children due to their lack of regrets, While the nation is teetering between united and fractured, the President is wavering between duty and collapse. Newspapers report that a grief-stricken Lincoln returns to the cemetery several times to open Willie's crypt to hold his body.
Benevolently, the "ill" inhabitants (the dead) of the Bardo watch as Lincoln demonstrates his great affection for his son and the tremendous grief he is experiencing. They decide to leave their "sick-boxes" (coffins) and lead a charge of ghosts to persuade the President to return to his son's grave, so the father and son can let go and move on to that next state of consciousness, respectively, the afterlife and the life after a son's death. It is at this point in the book that the often-fantastical story holds together by helping us to realize the commonalities of the human condition- angst, despair, misery and love.
So back to my question …… in what shelving category is Lincoln in the Bardo?
Eric Christensen helps to answer this question when he states:
Lincoln in the Bardo is a tremendous work of heart, humor (smart and scatological), and hope. Fans of literary fiction will love the deep characterization; genre fans will enjoy the weirder, otherworldly aspects; and I think both camps will be moved with Saunders's exploration of big ideas and profound emotion.
I highly recommend Lincoln in the Bardo. Stay with it as the first few chapters are challenging, but well worth the effort.
---
Nancy's Pick
June 2017
The Rent Collector
Camron Wright
Published by Shadow Mountain
The Rent Collector is a novel written by Camron Wright in 2012.   The author states that the novel is a work of fiction, but it accurately reflects the time setting, the living conditions, the characters, and important historical facts. The book is based on a true story. The Rent Collector is set in Phnom Pheh, Cambodia at the time of the communist Khmer Rouge rule from April 27, 1975 to January 1979. The Pol Pot regime is responsible for the genocide of two million Cambodians and for isolating the Cambodian people from the world.
The novel's main characters are Sang Ly, Ki Lim, her husband, their infant son Nisay, who is often ill, and Sopeap Sin. Sang Ly and family along with hundreds of dump people struggle to survive by picking through the 100 acre Stung Mean Chey," River of Victory," municipal trash dump. They pick through the dump hoping to find items to sell for food and rent money. The dump is their unofficial home. The government allows no permanent structures and orders all structures in the dump to be destroyed daily. Dump life is extremely dangerous and dirty, yet while feeling hopeless, the dump people form bonds with each other. The Rent Collector, Sopeap, is an abrupt, bitter, angry woman who drinks. She owns the perimeter lands where the "lucky" ones  rent space for make shift structures that can remain "like tin and cardboard castles walls on the perimeters."
Sang Ly has hopes for her son's health and her family's future. She wants to learn to read and her unlikely teacher will be Sopeap. The author takes the reader through the characters'  lives and adventures. Camron Wright leads you into Sang Ly's discoveries of her dreams. Sang Ly finds the identity and life story of the Rent Collector, Sopeap. The author, through Sopeap, quotes many literary writings as a way to show that literature can instill hope and transform lives.
The Rent Collector will lead the reader to want to discover more about Cambodia and its people's history.
The documentary, River of Victory, produced by Treavor Wright (son of Camron Wright), was the inspiration for the book.  See riverofvictory.com.
---
Pete's Pick
May 2017
The Lords of Discipline
Pat Conroy
Originally published in 1980
This book is a novel depicting life as a student at a military college in Charleston, SC during the latter 1960's. It is a depiction of the culture of a military school, set in the culture of quaint and very southern Charleston, and during a very turbulent time in the United States during the Vietnam War and the political stress that created in our society. The novel follows four roommates and friends through their four-year educational and personal experiences of growing up during this turbulent time.
Pat Conroy is a writer specializing in great story-telling and a masterful use of language to tell the story. He is perhaps most well-known for his novels The Prince of Tides and South of Broad. Several of his novels, such as The Great Santini, have been turned into major motion pictures. Mr. Conroy is a graduate of The Citadel in Charleston and his experience there in the 1960's is the basis for this novel. Mr. Conroy died of pancreatic cancer in March 2016.
This book tells the story of four young men who attend the Carolina Military Institute in Charleston, SC during the mid-1960's as the Vietnam War is raging in SouthEast Asia. Most of the graduates of the Institute end up being commissioned in the military services and many are sent off to fight the war in Vietnam. The story is told from the perspective of Will McLean whose father was a graduate of the Institute. One of his roommates is Tradd St. Croix is from an established, old Charleston family. His other two roommates are Mark Santoro and Dante Pignetti.
The story follows these four students through their four years at the school. The most difficult year for any student is the first year, known as the Plebe Year. This is the year when the upperclassmen work their most dastardly efforts to haze, harass, and intimidate the plebes to get them to crack under the pressure and ultimately resign from the school. The philosophy behind this process is that the school wants to only graduate young men who have the character and discipline to succeed in military service to the country, particularly during times of war. The story reveals there is virtually no limit to the extent that the hazing and harassment will take. Through their experience, Will, Tradd, Mark, and Dante will form a friendship and bond that will last through their four years together.
Early in his experience at the Institute, Will is introduced to the concept of the existence of a group of Institute graduates called The Ten. Their purpose is to ensure that each graduate exemplifies the character and integrity of the school and to work behind the scenes to ensure that unworthy individuals who survive the Plebe Year are ultimately weeded out of the Corps of Cadets. The process The Ten uses defies societal norms of behavior and even law. They appear to be beyond reproach and their existence is officially denied. Again, no holds are barred in this process. Will is challenged by the Commandant of Cadets to find out about The Ten. Much of the story looks at Will's experience as he tries to determine whether such a group exists and to bring it to public knowledge.
Much of the story is a description of intense military culture. Those who have served in the military and particularly those who have attended any of the military academies will readily identify with much of the story, however uncomfortable that may be. It is a story that follows the development of deep friendship and brotherhood that survives the greatest tests that can be imagined. It is a story about honesty, integrity, fairness, and societal norms told in a captivating manner that creates a tsunami of emotions in the reader. The end of the story is an incredible exclamation point on the experience of a military-styled education.
The Lords of Discipline is a novel of intense experience in a military school which will appeal to many, particularly those who have been through intense training experiences in the military. It is a novel which examines the incredible culture of the great southern city called Charleston. It is a wonderful look at the southern traditions of the Carolina low country, the values of the 1960's, and the process of growing into adulthood. Pat Conroy tells a story like few other writers. His use of language and his crafting of sentences and thought is absolutely captivating. At his 70th birthday party with friends and family, he said, "I have written [my] books because I thought if I explained my own life somehow, I could explain some of your life to you." He does this in a way you will seldom encounter with any other author.
I highly recommend it.
---
Chris's Pick
April 2017
South and West, From a Notebook
Joan Didion
Published by Alfred A Knopf, New York, 2017
Joan Didion, perhaps one of our most gifted and celebrated authors, prepared for her writings by keeping extensive notes and observations. Her newest book, South and West, is a compilation from two of her notebooks: the first, a 1970 road trip through Louisiana, Mississippi, and Alabama; the second begun from a Rolling Stone assignment in San Francisco. Although these notes are often unstructured and free form, it is a remarkable view, first into southern America, and then into Joan Didion herself.   As usual, her prose is crystalline; her imagery immaculate.
In "South", Didion interviews local business people, and describes, among other things, diners, roadside views, a deserted reptile farm, a ladies' brunch at the Mississippi Broadcasters' Convention, the heat, the air, overheard conversations, confederate flag beach towels at motel pools, a slave owner's certificate framed on a wall.
New Orleans:
In the hypnotic liquidity of the atmosphere all motion slows into choreography, all people on the street move as if suspended in a precarious emulsion, and there seems only a technical difference between the quick and the dead…..It's vertiginous preoccupation with race, class, heritage…are the basis of much conversation.…. they also talk…as if talking about anything at all could keep the wilderness at bay…the idea of wilderness as a mortal threat to a community precarious and colonial in its deepest aspect.

Biloxi, Mississippi:
…the isolation of these people from the currents of American life in 1970 was startling and bewildering to behold.  All their information was fifth-hand, and mythicized in the handing down.  Does it matter where Taos is, after all, if Taos is not in Mississippi?……The solidarity engendered by outside disapproval, a note struck constantly.
On the Road from Meridian to Tuscaloosa, Alabama:  "We crossed over the Tombigbee River, another still,  brown river.  I think I never saw water that appeared to be running in any part of the South. A sense of water moccasins."
As "West" begins, what is instantly felt is the marked difference between southern culture defined by the past, and western culture where the past seems inconsequential.  Begun as a "possible piece" about the trial of Patty Hearst, this notebook morphs into self-reflection as Didion discusses her privileged upbringing in Sacramento; social hierarchies, women she has seen as role models, and her thoughts on the West.
In the center of this (California) story there is a terrible secret…and the secret is the story doesn't matter, doesn't make any difference, doesn't figure.  The snow still falls…the Pacific still trembles…tectonic plates strain against each other while we sleep…..In the South they are convinced that they have bloodied their place with history.  In the West we do not believe that anything we do can bloody the land, or change it, or touch it.
Fifty years ago, Didion writes with eerily prescience:  "I had only some dim and unformed sense…that for some years the South and particularly the Gulf Coast had been for America what people were still saying California was…:the future, the secret source of malevolent and benevolent energy, the psychic center."
It is fascinating to read these notes in 2017.
---
Karen's Pick
March 2017
The One In A Million Boy
Monica Wood
Published by Houghton Mifflin Harcourt, April 5, 2016
Monica Wood is a masterful storyteller. In her novel, One in a Million Boy, she addresses the important subjects of death, friendship, love and commitment in a sweet, not saccharine way.
This is a touching story of Ona Vitkus, a 104-year-old Lithuanian woman, and a kind, socially awkward, nameless 11-year-old Boy Scout obsessed with counting and world records.  Very soon into the book (page 3) we discover the boy dies from a one in a million condition. His untimely death comes after 7 weeks of Boy Scout old person "duty calls" that gracefully morphed into motivating Ona to become a Guinness World Record holder (and not due to her age!)  Wood has the tragic death of the boy serve as the catalyst for the twin story lines – that of loss and redemption. The reader is confronted with a large cast of characters, but it is Quinn, the boy's guilt-laden musician father, and the acerbic Ona that keep us interested. Their unlikely relationship only exists because of "the boy" and the legacy he leaves behind. The reader soon realizes through Wood's prose that theirs is a poignant journey towards self-realization albeit motivated by an imposed friendship.    
I strongly recommend this book. The plot is simple but clever; the characters well developed and beautifully sketched, and the writing is simultaneously witty and heart wrenching.
---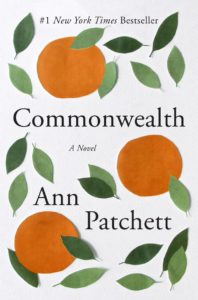 Barbara's Pick
February 2017
Commonwealth
Ann Patchett
Published September 13, 2016
I was already a fan of this author, having read several of her award-winning books, but this book about ill-blended families was even better than I had hoped. The story is told in back and forth fashion over 50 or so years, from the 1960s in California to the present, moving from the Midwest to Brooklyn to Virginia, one of the "commonwealths" in the story.
A la the Brady Bunch: "Here's the story of the two Keating sisters, Caroline and Franny, and their lovely mother, Beverly, who meet a man named Bert Cousins and his children Cal, Holly, Marjorie, and Albie." Beverly and Bert actually meet at Franny's christening, to which the uninvited Bert brings a huge bottle of gin rather than a more-appropriate gift. After a few hours of drinking, Beverly smooches Bert and all hell breaks loose.
After both marriages dissolve, Beverly and Bert move back to his native Virginia to be close to his wealthy parents. The Keating girls live with their mother and stepfather year-round and visit their father, Fix, for two weeks in the summer. The Cousins children spend the school year in California with their mother, Teresa, and the entire summer in Virginia with their stepsisters. Somehow the diverse kids cobble together a relationship, tolerance if not genuine affection.
Caroline is fiercely loyal to her father and treats everyone terribly, especially her sister. Franny just tries to get along. Bert's kids are no better: Cal bitter, Holly and Marjorie both disengaged, and Albie just the odd little kid who slows everyone down. Cal takes to giving Albie "tic tacs," which were actually the Benadryl he was always supposed to have on him, to get Albie to sleep and the older kids to have their adventures. Then something goes horribly wrong and the family fractures.
As the children grow up, they have varying ways of dealing with their childhood. Franny drops out of law school and meets a washed-up novelist while waitressing at a swanky Chicago hotel. Eventually they become involved and he turns her childhood stories into a best-selling novel, "Commonwealth." And again the apple cart is upturned.
Patchett is an elegant writer and gives so much life to these characters. I will be in line to read whatever she writes next.
---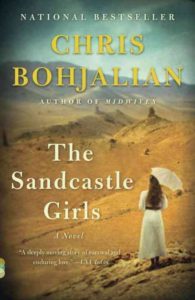 Nancy's Pick
January 2017
The Sandcastle Girls
Chris Bohjalian
The Sandcastle Girls is an historical fiction that contains parallel stories of a young Boston woman, Elizabeth Endicott, in 1915 and a young woman, Laura Petrosian, in 2010.
Elizabeth in 1915 accompanies her wealthy banker father on a philanthropic mission to Aleppo, Syria. Laura in 2010 researches her Armenian heritage and discovers secrets that her grandparents never shared with the family.
Elizabeth's father's mission in 1915 is to aid Armenian refugees fleeing atrocities committed by the Ottoman government. Elizabeth is a recent Mount Holyoke graduate, with a crash course in nursing, and very little ability in the Armenian language. She meets an engineer, Armen, who believes that he lost his wife and daughter during the chaos of deportations and mass murders of Armenians. Their friendship strengthens and Armen leaves Aleppo for Egypt to fight with the British Army in World War 1. He returns to Aleppo and the couple makes their way to America. The author, Chris Bohjalian spares no gritty details in describing accurately the atrocities of the Armenian genocide and World War 1.
Nearly a century later, Laura is living in a suburb of New York City when a friend tells her that there is a photo of her grandmother, Elizabeth, being used to advertise a photo exhibit about  the "Slaughter You Know Next To Nothing About."  As Laura explores her past, the story of Elizabeth and Armen unfolds. Laura discovers a wealth of letters, photos, and documents that explain that what she and family considered just to be her grandparents eccentricities are really tied to a rich and tragic history.
The author, Chris Bohjalian, skillfully writes this historical fictional keeping the complicated historical events of the Armenian massacres at the forefront. He is a prolific best selling author who through his novels takes readers on spectacular journeys. The Sandcastle Girls makes the reader want to explore more of the history of Aleppo, Syria, the Ottoman Empire, and the tragedy of the Armenian people.